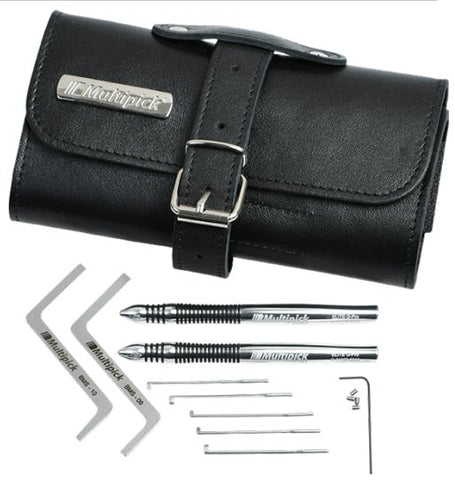 Roll over image to zoom in
Click to open expanded view
Multipick G-Pro Dimple Pick Starter Kit + Case
---
Want it delivered by Thursday 07 Dec? Order within the next 18 hours, 55 minutes and choose [Next Day shipping] at checkout. Details. Priority Shipping available for all orders
Beginners Lockpick Guide included with all pick sets Lockpick Guide included with all pick sets
Multipick G-Pro Dimple Pick Starter Kit + Case The Finest Dimple Lock Picks Ever Made The cream of dimple lock pick s... more
---
---
Multipick G-Pro Dimple Pick Starter Kit + Case
The Finest Dimple Lock Picks Ever Made
The cream of dimple lock pick sets but smaller - meaning everyone has access to professional league dimple picks, with the option of extending your kit later.
The full size G-Pro dimple pick set from Multipick changed the way we understand dimple picks. Their obsessive attention to detail and craftsmanship put the G-Pro set right at the top of the tree as far as design, engineering and manufacture quality goes. 
This Starter Kit allows the ambitious lock picker who might be excluded from the full kit due to budget limitations to pick dimple locks with these exquisite picks knowing they have the best available tools for such work.
This kit contains the five most popular and effective dimple pick tips and two handles featuring the quick-blade-change feature, as well as two identical cylinder core tensioners.
Here's what you get:
2 x Handles without flag pick tips
1 x Flag pick tip 01 (LW3)
1 x Flag pick tip 04 (L1)
1 x Flag pick tip 05 (R1)
1 x Flag pick tip 07 (R3)
1 x Flag pick tip 09 (RW3)
4 x Fixing screws (spare)
1 x Dimple tension wrench 09
1 x Dimple tension wrench 10
1 x Allen key 1.3 mm
1 x Genuine leather roll-up case
We have a variety of different types of G-Pro picking tips you can combine with this starter Set to build it up.
The beautiful real leather roll-up case keeps your options open so you can build your G-Pro to the full set in your own time.
Multipick make the finest lock picking kit available with a dedication to excellence, aesthetic integrity, and the most rigorous engagement with actual lock picking performance.
Order Processing:
Orders will be processed the same working day before 1pm, or the next working day from when payment has cleared. You will receive an email receipt once dispatched.
UK Delivery Information:
We offer Free UK Delivery as standard. Your order will be sent absolutely free via Royal Mail - and generally will be with you within 3 - 5 working days.
Get Priority Delivery to expedite your order processing and dispatch.
One-Day Delivery is available which speeds up delivery to 1 day after processing. Please ensure your order in in BEFORE 3 o'clock.
NOTE: The Royal Mail do not collect from us on Saturdays and DO NOT deliver on SUNDAYS
We also offer a Signed 1- day Service for important packages - this functions in the same way as the One-Day service, but with extra signing security.
International Delivery Information:
For European orders with standard delivery - you should receive your items within 4 - 8 working days - shipping upgrades are available. 
For USA/Canada orders with standard delivery - you should receive your items within 5 - 12 working days - shipping upgrades are available.
For everyone else in the world  - we generally expect your orders to arrive between 7 - 14 working days. However, please allow up to 21 working days from day of dispatch.
NOTE: These numbers provide an average but you might have to wait longer. We think it's only fair that we warn you of this.
We know you want your picks immediately. We routinely sell quality lock picks at hugely reduced prices and in great quantities. We sometimes even whip our staff to keep them working all through the night. Your orders are coming to you as soon as humanly possible! If you want a chat about some tools or ideas, or are thinking about making an order and aren't sure, drop us a line at hello@ukbumpkeys.com and I'll happily help.
Conditions of Sale
Our products are available to responsible adults over the age of 18 years, for use in professional or hobby lock opening.
We reserve the right to cancel orders without notice.
UKBumpKeys cannot accept responsibility for loss or damage to any property caused by use of our tools, completing a purchase means you understand and agree to this.
International Orders
On your credit / debit card / payment statement, the charge will appear in your local bank currency. Our store will display the price in UK Pounds Sterling. We ship international orders every day. Please select the region correctly so correct taxes and postal rates are applied, any mistakes and you may end up paying extra. Sometimes a Customs Fee is charged, then the package is picked up from the post office, or when it is delivered - unfortunately, we cannot be responsible these fees - check on the internet for any potential fees that might be incurred. 
Return / Cancellation / Refund Policy
If you are unsatisfied you may return anything you purchase from UK Bump Keys for exchange or refund within 14 days of purchase as long as they are in new condition, which means they have not been used.  We will credit your credit/debit card, PayPal account within 30 day of the time we receive your return.
If you receive a defective product from us email hello@ukbumpkeys.com.  Please do not return defective products without authorization.  In most cases a new product will be sent to you or we will swap your defective item for a new one.
Making a return is simple. Please contact us at hello@ukbumpkeys.com to arrange this. You will be liable for return shipping costs and postage & Packaging fees incurred during dispatch.
Books and DVDs are not returnable unless defective.  You must notify us within 15 days of receipt.
Order cancellations are possible but not guaranteed.  If you request a cancelation and internally it is too late, please refuse the shipment and we will credit your card or issue a refund check when the items is returned to us.
Should you not not receive your order and we choose to send a replacement (which are considered on a case by case basis) we do not offer refunds on such resends.
Customers are liable for the return shipping cost of returned items. If the item is not faulty you will be liable for return shipping costs and postage & Packaging fees incurred during dispatch. All returns must be accompanied by a relevant RMA number (to be obtained from our support staff).
Orders are photographed and numbered before dispatch to prevent fraudulent faulty claims.
---
---